INSULATED JACKETS WITH UP TO 0 ⁰С LEVEL OF COLD PROTECTION
CAN BE WORN ALL YEAR ROUND IN A MODERATELY WARM CLIMATE OR AS A SECOND LAYER UNDER A WINTER JACKET IN COLDER TEMPS
Warm jackets with up to -10 ⁰С level of cold PROTECTION
DESIGNED FOR THE RAINIEST AND CHILLIEST DAYS OF THE YEAR. FEATURE MAXIMUM FUNCTIONALITY
ULTRAWARM JACKETS WITH UP TO -20 ⁰С AND EVEN UP TO -30 ⁰С LEVELS OF COLD PROTECTION
DESIGNED FOR MAXIMUM PROTECTION AGAINST THE COLD WHILE BEING AS THIN AS POSSIBLE. COMFORTABLE TO WEAR AND AESTHETICALLY PLEASING
JACKETS WITH A METALLIC OR RUBBER COATING
SUCCESSFULLY PASS THE WATER RESISTANCE TEST. WILL PROTECT YOU FROM LIGHT RAIN FOR A SHORT TIME
JACKETS MADE OF FABRICS LAMINATED WITH MEMBRANE
FEATURE A HIGH RATE OF WATERPROOFNESS AND BREATHABILITY. WILL RESIST LIGHT RAIN AND WET SNOW FOR A LONG TIME
JACKETS WITH MAXIMUM WATERPROOFNESS
IDEAL PROTECTION FROM RAIN AND SLUSH IN THE CITY. SUITABLE FOR SKI OR SNOWBOARD TRIPS IN THE OUTDOORS
BREATHABLE JACKETS
SUCCESSFULLY PASS THE BREATHABILITY TEST
3-IN-1
A versatile set of clothing. A stylish set for every season, consisting of two separate jackets. During the cold winter, the maximum heat-saving effect is guaranteed by two layers of clothing - a quilted jacket and a waterproof raincoat, which match perfectly in style, but perform different functions. KRAKATAU 3-in-1 collection for men and women is the best solution for those who just can't say goodbye to their favorite jacket and want to wear it throughout the year.
HEAT CONTOURING
We decided to equip some jackets with something like a thermal body armor which protects vital organs, including the lungs and kidneys from hypothermia. Arms, shoulders, and hips are constantly in motion when walking, which ensures regular blood flow. But the chest and back can be susceptible to harsh cold winds, so we developed an additional layer of insulation and we call Heat-Contouring ™.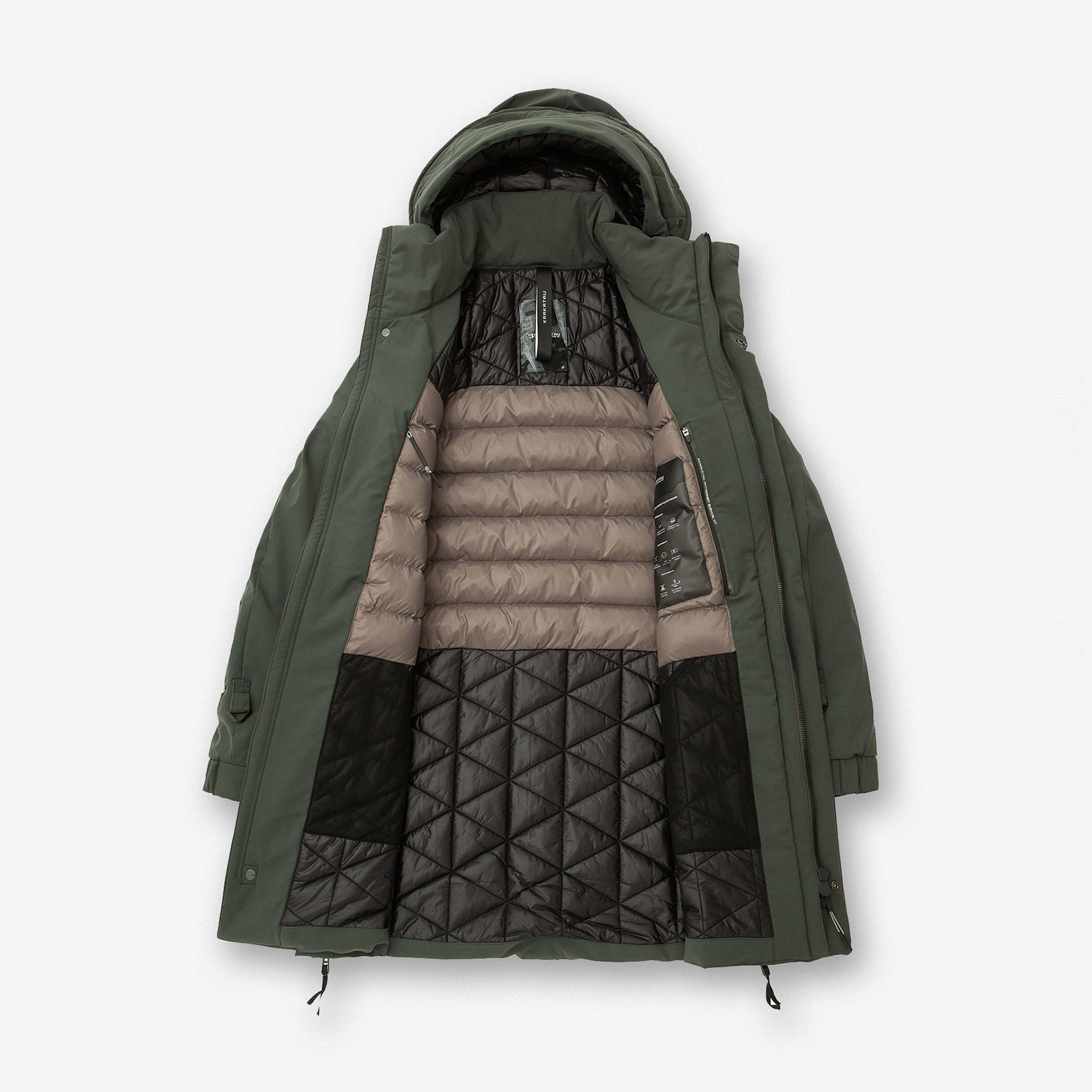 TAPED SEAMS
We tape the seams of our jackets made of fabrics that are laminated with membrane layers to prevent moisture from getting inside, even in places where the fabric is sewn together. If you need a casual urban jacket, a KRAKATAU waterproof jacket with any number of "drops" in the description will suffice. But if you spend time in the wild often or if heavy rains are common in your city, that is a completely different story. In this case, we recommend buying a KRAKATAU jacket with fully taped seams.
PACKABLE
It is convenient when a jacket can be easily folded and carried as a small shoulder bag or be put into your luggage, taking almost no space at all. It is handy when the size of your bag can be adjusted by expanding its sections depending on your needs. KRAKATAU packable bags and jackets are perfect year-round complements to a functional wardrobe.
MAGNETIC CLOSURES
In bad weather, when you want to quickly warm yourself up, and your hands are freezing, a magnetic closure is a very convenient feature. KRAKATAU jackets are usually fastened with a two-way zipper and are complemented by a windproof placket, which in some styles is held on by magnets. In some jackets, we use magnets together with snaps to allow you to fasten your jackets the way you need: fast, which keeps the jacket from opening on the move, or thoroughly, when you go through all the snaps to protect yourself from wind gusts. The flaps on the pockets are held on by magnets eliminating the need to fasten the pocket - it is self-closing.
INNER-STRAPPING SYSTEM
KRAKATAU jackets, parkas and down jackets have inner straps that allow you to wear a jacket over your shoulders. Once indoors, you can pull your jacket back, creating a spectacular man's or woman's image of a post-apocalyptic nomad. You are not sweating, your hands are free, and you don't need to stay in line for the coat check to get your jacket stored.